Beautiful flight of the aviator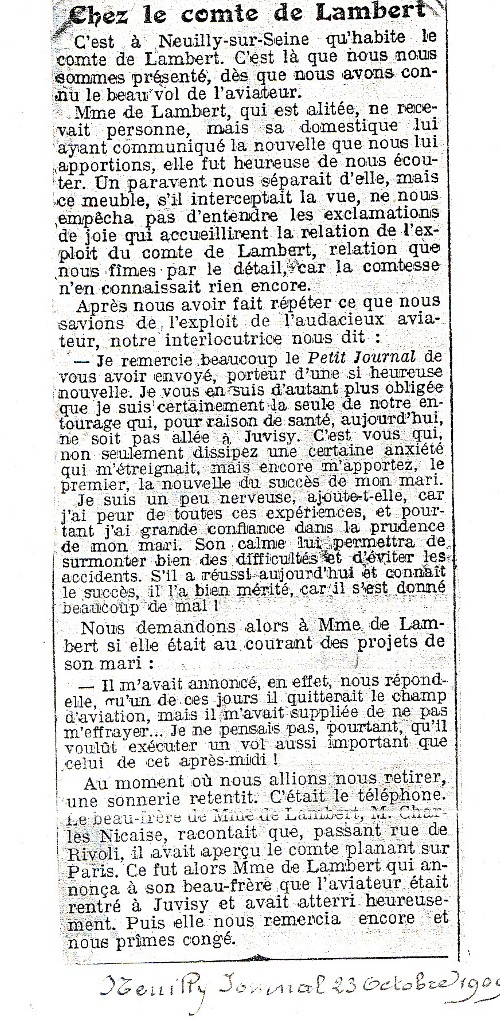 Fig. 7-29
'Neuilly Journal' October 23 1909
Translation: 'With count de Lambert
It is at Neuilly-sur-Seine where count de Lambert has been living. Thére we introduce ourselves as soon as we have heard of the beautiful flight of the aviator.
Mrs de Lambert, who is bedridden, receives nobody, but after her servant has taken her the news we brought, she became happy to listen to us. A screen divided us from her, but this piece of furniture that may obstruct the views, did not hinder us from hearing the shouts of joy with which the story on the heroic deed of count de Lambert was received, story we told in detail, because the countess did not yet know anything on it.
After having us repeat what we knew of the exploit of the daring aviator, our opposing party says us:
-         I thank Petit Journal very much to have sent you, messenger of such happy news. All the more I owe you because I am certain I am the only one from our surroundings who, due to reasons of health, has not gone to Juvisy. It is you, who not only alleviate a certain preoccupation which I had, but even bring me the news of the success of my husband.
I am somewhat nervous, she adds, because I am afraid of all those experiments, and yet I am having great confidence in the prudence of my husband. His calmness will permit him to conquer a great deal of difficulties and to prevent the accidents. When today he has succeeded and is knowing the success, he has very much earned it, because he has given himself enough trouble!
Then we ask Mrs de Lambert whether she was informed on the plans of her husband:
-         He has indeed announced me, she replies, he would leave the airfield one of these days, but he has pleaded with me not to become afraid…However I did not know, he wanted to execute such an important flight as the one of this afternoon!
The moment we got ready to leave the telephone rang. The brother-in-law of Mrs de Lambert, Mr Charles Nicaise, told her that, passing by rue de Rivoli, he had observed the count flying above Paris. It was then Mrs de Lambert informed her brother-in-law that the aviator had returned to Juvisy and had safely landed. After that she thanked us and we said goodbye.'
Although after his flight in Paris he was received by Orville Wright, brother Wilbur at home in the U.S.A. appears to have reacted differently. He has been angrily upset and calls flying over the French metropolis an irresponsible recklessness. The wife of Charles de Lambert, Cordelia Mary de Lambert-Consett does not accept it and on November 1 1909 she calls  Wilbur Wright Esq.  Dayton, Ohio United States by telegram to account:
"12 WD Reply paid" "May I deny you have said as reported in Papers comte Lambert deserves to be put in Lunatic asylum for juvisy paris raid.
Contesse DeLambert.
Neuillys seine France."
Whether and if so what reaction the countess received to her pressing question, is sadly not known.